Between diagnosing pet problems, finding viable treatment options, and fighting for client compliance, chances are you don't get much time to explore new ideas for building a more engaging social media presence.
We hear you! Connecting with pet owners on social media takes time, but when invested wisely, it's never time wasted.
We have talked about efficient ways to streamline your social media process, and now we're shifting gears to show you the most effective types of posts to best engage your clients, with a minimal investment of time.
Create social media goals
The first rule of marketing is never do anything without an explicit goal in mind. Your practice is not holding a contest just for the sake of holding a contest. Take a moment to try and figure out what goals you want to achieve with this promotion. Those goals can be as simple as rewarding your clients or gaining more social media followers, or can be more complicated, such as reaching new pet owners, promoting specific treatments, or increasing visits to your practice.
Understanding your goals will help you design the type of contest best suited to meet those goals and measure how successful the contest is.
Pick your platforms strategically
You might think that posting the same content across all your social media accounts saves time, but not all content works effectively on every platform.
Text-heavy posts, for example, might flourish on Facebook but tank on Instagram, because Instagram is geared toward images. Try to strategize which types of posts will suit each platform best to avoid wasting your time.
What kinds of social media posts engage pet owners best?
In order to make your investment in social media worthwhile, you need to cultivate material that evokes a positive response from pet owners—and these kinds of posts are proven to help.
Best time to post on social media
When is the best time for your practice to post to social media – the time that will garner the highest reach and engagement?
The honest answer – there is no best time. While there have been many investigations into what the ideal time to post to social media is, no one can say for sure what the best post time is for your practice. Your audience is not the same as another business, and your clientele might be on social media at different times than other businesses or even other practices. Just like choosing the right social media platform for your practice, only you can say for sure what time you should be connecting with your clients online.
Having said that, a fair bit of research has been done to identify the ideal times to post online, and Quick Sprout has compiled these times into a handy infographic. These times are not set in stone, and you may find that they don't really apply to your practice's audience. Ultimately, you need to experiment and test out different posting times to figure out what will work best for your individual practice. However, knowing these researched-backed numbers can give you a good place to start from.

(Source)
Images and videos
It's no secret that people love pictures, and when you work at a veterinary clinic, there's no shortage of opportunities for a quick photoshoot or a behind-the-scenes live video to spark likes and shares on social.
Aside from being super easy and quick, visuals can expand your reach to find new clients and improve client retention. Why? They're fun, trendy and can offer an inside look at the goings-on at your practice—which is great for building transparency too. Just be sure to get pet owner permission first!
As a bonus, not all your social media content must come directly from your practice. You can share pet videos from across the web too, a proven way to make your clients smile and click that like button.
Interactive content
Want to move beyond just likes and retweets? Interactive content invites pet owners to directly engage with media that responds to their clicks and comments automatically.
Think polls, quizzes and the like—all designed to entice a more active audience. Don't worry, quizzes are easy to set-up, and you can use a free tool like SurveyMonkey to get started.
Plus, Facebook has a poll option built right in! You can find it under the Publishing Tools heading on your Veterinary Facebook Page:
1. Select the

button at the top far right corner.
2. Click the + Option from the "Create New Page Post" Window.



3. Select "Create a poll for people to vote" from the dropdown menu.



4. You can input any question you like, as well as a few answer options your audience can use to vote on their response. All you have to do is hit Publish!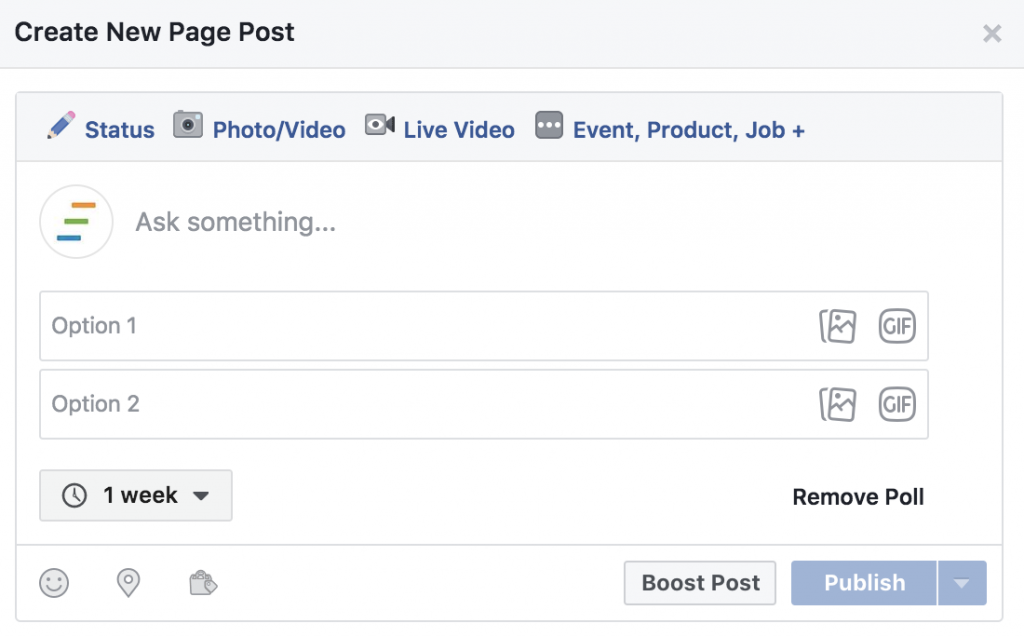 The idea here is to ask questions directly to pet owners about their experiences and thoughts, so you can start a quality conversation. It can even be as simple as typing up your question in a regular Facebook post, if you're short on time.
These kinds of posts aren't just beneficial for engagement rates—they can also tell you a lot about what your clients are thinking.
Lists and how-to posts
When it comes to sharing client education on social, lists and how-to posts are a great way to start. There's something magnetic about a list post, triggering our innate compulsion to discover new things and cross them out as we go.
How-to posts boast value right in the headline by promising to teach your audience something catchy, and lists keep your content organized, sharable, and memorable. That's a major win for client compliance too!
Essential pet care information
Not all educational content is best suited for a list or how-to format, so feel free to share informative materials any way you see fit. Pet parents today want to be kept abreast of industry news, product recalls, and best pet care practices—sharing this type of content is a great way for you to establish your practice as the pet health expert in your area.
Emotional posts
Ultimately, the quickest way to a pet owner's heart is through their beloved pets. Sharing fun, sweet, funny and inspiring stories of pet patients helps you build trust with your clients by showcasing a pet-centric practice.
Far too often, veterinary practices can be a daunting, scary, and even sad place for pet owners. By emphasizing the positive elements of pet care on your social media, using these time-saving engagement tips, you'll gain more than just new followers—you'll build better communication with pet owners too.
Promote your practice
In addition to the social platform that you're hosting the contest on, you can mention your contest on other platforms as well, and encourage people from all your social channels and your website to enter your contest. The more entrants you have, the better your chances of achieving your goals and the more effective your promotion will be.
Seasonal Posts
Here is a list of fun contest ideas you can use for the upcoming holidays. Feel free to use any or all of these:
Thanksgiving/Halloween/Christmas/Holiday/Cold Weather Wear Photo Contest

Any photo with a pet dressed up in a cute costume

Share:

What you're thankful for

your best holiday pet safety tip

your best holiday dog/cat treat recipe

what gift you're giving your pet for the Holidays

your best cold weather pet safety tip

12 Days of Holiday Giveaways

Collect likes and give away a small prize every day for the holiday season
To help you with that, here are ten fun, pre-written holiday-themed posts to share with clients on social:  
Cats
Contrary to popular belief, you shouldn't feed your cat a saucer of milk or any dairy products. While they may love the taste, most cats are lactose intolerant. So, if you're planning on leaving out a glass of milk for Santa, make sure to leave the milk someplace inaccessible to your cat. Or just leave the milk in the fridge. As far as we know, cats still can't open fridges (as much as they may want to) and Santa knows where to find the milk. (He sees everything!) 
Cats enjoy playing with tinsel, and who can blame them. To a cat, a dangling piece of tinsel basically says, "Play with me!" But if they decide to ingest it, tinsel can cause intestinal blockages that can be harmful or even fatal. To avoid this, consider not using tinsel to decorate your tree, or hang it high in the tree where your cat can't get to it. 
Sir Isaac Newton invented the cat flap because his cat, Spithead, kept pushing the door open when he was conducting experiments that needed darkness. Said another way, if you find yourself in an awkward conversation this holiday season and need to change the subject, it's always handy to have a random factoid in your back pocket to do the job, as in, "Hey, do you know why Sir Isaac Newton invented the cat flap?" Happy holidays! 
Dogs
Petting a dog helps lower blood pressure and reduce stress. This is especially handy during the stress of the holidays. So, when things feel stressful, relax and pet your dog, and if this doesn't offer enough stress relief, take a break and take your dog outside to play. Your dog will love you for it (and you'll feel better, to boot). 

Grapes, raisins, onions, garlic, wild mushrooms, chocolate, macadamia nuts, and other foods common to holiday foods are extremely toxic to dogs. If you see your pet eating anything toxic or exhibiting any unusual signs, contact us immediately or the Pet Poison Helpline, available in North America by calling 800-213-6680.  
While some dogs love laser toys, dogs who are frustrated with laser toys can become obsessed with chasing light and shadows. So, think carefully if you're considering buying your dog a laser toy for the holidays.  
Pets
According to a recent survey by OnePoll, 95% of pet owners buy their pets holiday gifts. Another study found that lost dogs are 2 ½ times more likely to be found when they have a microchip ID, and lost cats are 20 times more likely to be found with microchip ID. So, why not give your pet the gift of microchip ID this season to better ensure your pet is always home for the holidays.  
Overindulgence in food is almost unavoidable during the holiday season, and in the spirit of things, it's easy to overindulge pets with food and treats. Yet pets can quickly become accustomed to extra food, and when they start begging for more, it's easy to continue overindulging them to quiet them. So, exercise caution with food this season. Overweight pets can suffer from arthritis, diabetes, hypertension & many other problems, just like people.  
If you've ever sent a holiday greeting card that included your pet's name, you're in good company. Roughly 70% of pet owners sign their pet's name on greeting cards. The challenge, of course, is coming up with a short message to accompany your pet's name, but in a pinch, the words "paws" and "mew" are endearing standbys, as in "Have a paw-some holiday" and "Happy Mew Year!"  
While the idea of giving someone a new puppy or kitten at Christmas may seem like a great idea, animal shelters typically experience a spike after the holidays from pets being given up by people who are unable to make a lifelong commitment to care for a companion animal. Adopting a pet is a big decision, and agencies like PETA strongly advise people not to give pets as a surprise present. 
Upgrade your vet social media strategy with experts!
If you like the convenience of pre-written content, did you know that LifeLearn provides professional social media management just for the animal health industry and helps veterinarians to easily and consistently engage clients all year 'round? 
Schedule a free consultation to learn more about social media marketing for your veterinary practice. LifeLearn can help you market your practice more effectively while saving you time to focus on what matters most.