At LifeLearn, we don't use words like "leading edge" and "innovative" because they're popular buzzwords. We use them based on the kind of historical proof evidenced by ClientEd, LifeLearn's unparalleled client education resource for veterinarians.
The Journal of the American Veterinary Medical Association echoes what we've been practicing for years. Here's what they have to say:
In 2008, the Journal of the American Veterinary Medical Association published findings from a pet industry task-force study that showed how effective client education helps improve compliance and patient outcomes and helps practices retain clients to improve profitability.
We weren't surprised by the findings, which effectively restate what LifeLearn was saying decades earlier to veterinarians and still says today on the ClientEd website:
Informed pet owners make better pet health care choices.
The genesis of LifeLearn ClientEd began shortly after Charles (Chas) Povey, PhD, and Jim Stowe, DVM, co-founded LifeLearn in 1994 to offer award-winning continuing education programs to veterinarians across North America using CDI technology (the first leading-edge multimedia technology aimed at a mass audience).
Realizing the need for veterinary client education material to help improve compliance and strengthen practice growth, Dr. Povey said in the April 1995 issue of Veterinary Practice that LifeLearn would be offering client education handouts for veterinarians "describing a wide range of subjects, explaining diseases, treatments, home care, and future prevention." Written by animal health experts and distributed on CD, articles came with images and illustrations. Veterinarians could edit and personalize articles to their practice, and the CDs came with a search feature to find articles quickly and easily.
By 1997, LifeLearn's client education handouts had become so popular with practices that LifeLearn innovated its client-education approach to serve practices better and introduced Custom Care Client Handouts that could be integrated with practice management software.
Some veterinarian feedback from the time:
"These handouts are excellent: comprehensive, readable, and informative. Just what my staff has been nagging me to write for years."

"Very useful, good idea to be able to add our practice logo and details at the top of the handout."

"Integration into the practice computer system – superb."
As LifeLearn continued to explore new technologies to deliver leading-edge client-education solutions to veterinarians, so did LifeLearn continue to grow the size and scope of its articles.
By 1999, LifeLearn's Custom Care Client Handouts included the Pharmacy edition, with some 90 drug information sheets for clients. And by 2000, LifeLearn's client education handouts encompassed canine, feline, pet bird, and animal behavior topics, as well as pet-care information about exotics.
As a new millennium unfolded, LifeLearn also unfolded a better way for veterinarians to quickly access the latest and best in client education and introduced ClientEd Online (now simply known as ClientEd). Easily integrated with practice management software, ClientEd also offered direct integration with practice websites, allowing both veterinarians and clients to easily look up pet health information at any time. In 2011, LifeLearn announced the addition of an extensive Spanish-language module to its then-total of 1,200 trusted pet health articles, and by 2016, ClientEd included over 1,800 pet health articles.
Today, ClientEd continues to help practices improve compliance and patient outcomes through access to over 2,000 illustrated pet health articles (including over 170 Spanish articles).
As one of the industry's largest libraries of pet health information, all ClientEd articles are professionally written and updated by practice experts and reviewed by practitioners to bring you the most up-to-date, high-quality client information. This includes over 190 pet medication articles to help veterinarians easily meet the requirements of new state pet medication compliance laws. And with two new articles added monthly, the ClientEd library is always growing to serve more pet owners, evidenced by the Gingr Pet Parent Education library (GPPE).
Created as a custom offering in 2019 for Gingr, the leading online appointment and customer management system for pet service businesses, the GPPE provides both pet owners and pet service businesses with access to over 1,500 pet health articles trusted by veterinarians across North America to serve the needs and questions of pet owners.
While technology has enabled ClientEd to evolve from initial Word documents on CD to a robust and flexible digital delivery platform to serve more veterinarians and pet owners, technology, in the end, is only a delivery mechanism. The core of ClientEd's strength has always been the quality of its information, combined with how all ClientEd articles are written.
Here's what we mean.
In 2018, research published in Topics in Companion Animal Medicine found that simple language and overall ease of readability in client education information was a huge factor in pet owners' understanding and following through with pet treatments. Yet the study found that 90% of brochures, leaflets, infographics, and other client handouts distributed by practices were too technical, and poor comprehension by pet owners "could result in negative, unintended consequences" for pets.
When ClientEd germinated in 1995, LifeLearn co-founder Dr. Povey provided veterinarians with client education handouts "written in a comprehensive and simplistic manner, so your clients will leave your consultation confident with the service you have provided."
Framed against the current state of other client handouts, LifeLearn's vision was "leading edge" in 1995 by approaching client education from an acute pet-owner perspective, and today, LifeLearn remains at the forefront of effective client education with articles written in plain language, making them easily understood by pet owners to improve compliance and patient outcomes.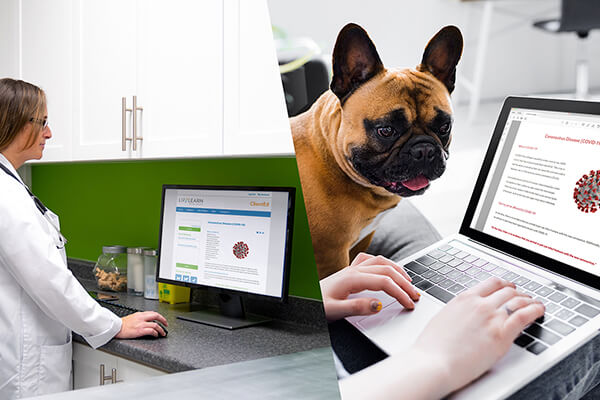 See the ClientEd difference for yourself
ClientEd integrates with some of the most popular practice management systems, so you can save time and access ClientEd articles right from your existing software.
ClientEd is also included with all LifeLearn WebDVM websites.
What
is
ClientEd Online?
What you get with this awesome product:
An online pet health library featuring over 1,800 pet health articles, and a massive dog breed library

Accurate, relevant educational articles written by veterinary health experts

Editing capabilities to change information and add your practice logo

Direct integration with your website, so clients can look up pet health information at any time

Integration with most practice management software (AVImark, Cornerstone, Impromed Infinity, DVMManager and Alisvet) to help improve your workflow and record-keeping of client education efforts.
Now that we've covered the basics of ClientEd Online, let's talk about getting the most out of this awesome tool.

The ClientEd library will be significantly refreshed over the following year with updates to hundreds of articles. This will ensure that you have the best client education at your fingertips and pet owners are getting fresh information that's easy to understand and comply with.
With the ClientEd library refresh you'll have:
A consistent stream of monthly updates and new articles but at a significantly accelerated rate

Approximately 300 new updates with modernized images and illustrations, and fresh writing style for better understanding
Simple tips for getting the most out of ClientEd Online

1. Edit articles as necessary
Every pet is a unique case, which means not every relevant ClientEd Online article will match exactly with the individual patient. But that doesn't mean you have to scrap the article completely. With full editing capabilities, you can go in and change the information to match the specific animal's needs. It's simple, it's fast, and it ensures that the information you're providing to the client fully matches their pet's individual case.
2. Take full advantage of the branding features
Every educational article you hand out can be branded specifically to your practice. All you have to do is upload your clinic information and logo. This lends to the trustworthiness of the handouts – now your clients can tell that they came directly from you and aren't just printed off from a random website on Google. Additionally, it keeps your clinic top of mind, so they'll be ready to bring their pets back to your practice when the time is right.
3. Let your clients know that ClientEd Online is available on your website
You'll find that the pet health library on your website is used more if your clients are actually aware that it exists. Whether patients are coming in for specific symptoms or just a regular checkup, make sure to inform clients when you see them that they can learn more about their pet's health on your website. A great tool to introduce to clients is the Pet Health Checker, which allows them to input their pet's symptoms and determine the level of urgency. The tool does not diagnose or treat symptoms – it simply indicates how quickly the client should seek care and directs them to your clinic every time, helping to ensure that pets receive medical attention in a timely fashion. It's a great tool that clients are likely to take advantage of.
4. Share links to ClientEd articles through your social media
Want to save some time on social media? ClientEd articles are a great way to educate your clients quickly and easily. Are your clients asking you questions on social media? Send them a link to a ClientEd article from your website. You can also make educational posts with a short blurb on Twitter or a fun fact on Facebook, and then link back to the corresponding ClientEd article. It's simple, educational, and drives more traffic from social media directly to your website.ClientEd Online is an excellent tool, full of trustworthy and educational information. It can offer great benefits for your clients, your patients, and even your practice. And the more you use it, the greater the rewards! So put these tips to the test, and make ClientEd Online a go-to for your staff and your clients.
Updates to the ClientEd library have already begun! The monthly ClientEd Digest email and the What's New section within the ClientEd portal will note changes as they happen.