Search engine optimization (SEO) is an essential part of promoting your clinic in today's tech-based world. Nearly 90% of consumers use search engines to find local businesses and make purchasing decisions.  With numbers like that, it's clear that local SEO should be a big part of your marketing strategy.
Search engines like Google are putting an increasingly heavy emphasis on local and mobile-friendly search results, particularly for service-based businesses like your clinic.
---
Want to get a head start on your SEO? Check out WebDVM websites! They're mobile- and search-friendly.
---
The next step is for your team to ensure that you are regularly sending strong signals to search engines that you are relevant to local searchers. This will help you climb up those local rankings and stand out from your competitors!
How can you send local signals?
When it comes to local SEO, there are two main things to consider:
The information you are presenting on your website, or your

on-site

factors

The information being presented about your clinic on other areas of the web, or your

off-site

factors
Here are some helpful and actionable tips that will put you on the path to local search success.
What is local SEO?
Local SEO is focused on getting your practice website to rank in the "local results" of search engines – that is, results that are relevant to the searcher based on the person's current location.
This is different from what most people – including us – lazily refer to as SEO, which is more accurately described as "organic SEO," because it is focused on getting your practice website to rank in organic search results.
What You Can Do On-Site
Clean up your contact information.
Your Contact Page
Your website should always have a "Contact Us" page.  The contact page on your website should include:
Your full address (including your clinic name, street address, city, state/province, and zip/postal code)

A Google map to your location

Multiple contact points (like phone number, a contact form, and your social media)
Staff Bios
You should have a place on your website for staff information or bios. This can be a dedicated page, or an addition to your "Contact Us" page.
Putting a local spin on these bios is very helpful. For example, consider including something you love about your community, your community involvement, and linking to local causes and organizations that are near to each team member's heart.
Your Site Footer
Take advantage of your website's footer (or header) to reiterate your address, hours of operation, and service offerings.
Mention Your Location
In your page titles

In the content boxes on your homepage.
Get going with your blog and social media accounts.
Get Blogging
It's important to establish a regular blog on your website. We offer some great content that can help you establish your blog, but it isn't specific to your community.
Try writing one blog post a week. You can write about goings-on at the clinic, pet-related community events, information for pet owners specific to your area, or anything that tickles your fancy.
Just remember, even if you can't commit to one a week, trying to stick to a schedule is important. Sprinkling in community-related content with more educational content will help tell search engines (and potential clients!) that you are involved in the community, and are a place to go for fresh content.
Get Social
Maintaining a social media presence is also important for local SEO. Coupled with your blog, it helps establish your clinic as a web presence, and not just a "web brochure." Here are some quick tips for making the most of your social media accounts:
Keep a consistent voice. If possible, assign one team member to be your blog and social media resource. Maintaining a consistent voice is important and will help keep things organized. If this isn't an option, and you need a few people to share the task, have a guideline document that helps them stay consistent!

Stick to the big boys. Facebook and Twitter generally cover most of your existing and potential client base. You've got limited resources, so be careful before involving yourself in too many platforms.

Participate, discuss, and assist. Your social media mantra should really be about being social, not advertising. Don't use social media strictly to shout about your services. You should aim to discuss with and promote others at least three times as much as you do yourself. Facebook and Twitter can also be a great way to be accessible to your clients for customer service.

Share your posts. You've taken the time to write great local blog content, right? Sharing on social media can help get that content read and distributed to a wider audience, which in turn will get you more clients and help with your SEO.

Add your social feed to your website. This makes your social media more accessible to visitors.
What You Can Do Off-Site

Keep up with your local listings.
Ensure you have listings on the major local listings websites. Local listings help increase the chances of your business being found online. The more places you are listed, the more visible you are – and, if your information is consistent across your business listings, the more trusted your business data is. This can greatly increase your chances of ranking well in local search results.
Here is a list of some of the better-known (and one industry-specific) local listing websites. Remember, it's essential to ensure that your business information is consistent across all local listing websites. Take the time to ensure that your business name, contact information, hours of operation, and services provided are as consistently as possible.
Must-Haves:
Consider:
Yellow Pages – Business (Canada)
HotFrog.com (HotFrog.ca in Canada)
SuperPages (Canada and U.S.)
These are just some of the more popular listings sites available. There are many others that you may wish to consider as well.
Duplicate and Conflicting Listings
In reviewing your local listings, you may find that you have inconsistent information or even multiple listings on certain sites. Cleaning these up can help you maintain a consistent online presence.
If you have multiple listings on a site, remove the unnecessary ones. If one listing has more reviews, consider prioritizing that one as your main listing.
---
Not sure? You can always reach out to the LifeLearn team for support!
---
If you have inconsistent data, be sure to edit the listings so that they all match up.
Seems daunting? There are a few handy services available that can assist you in getting new listings and maintaining consistency.  Here are two examples:
Reviews and Guarding Your Reputation
With local listings come reviews. The number and quality of these reviews have an effect on how your business will be listed in local search results. Checking up and maintaining these reviews is a good practice for your clinic.
Monitor and reply to reviews.
You should regularly monitor the three major review sites for reviews: your Google My Business listing, Yelp, and your Facebook page.
Replying to reviews – both negative and positive – shows a search engine, and potential customers, that you are actively involved online and care about your clinic's reputation.
Where it's permitted*, ask your clients to review your services. For example, you could try something like this free tool from Whitespark to build a quick handout for requesting Google reviews. The more positive reviews you have, the better positioned you are for local search success.
Tip: Pay attention to the terms of service for review sites you plan to solicit reviews from. Yelp, for example, requests that you do not solicit reviews.
Getting and monitoring your reviews does take time. If staff time is at a premium, there are a number of services available to help assist you in managing your online reputation and getting more positive reviews. Here are a few:
*Important: Please note that the use of client testimonials in marketing or advertising is not permitted in all states and provinces. If you are unsure, please consult with your governing veterinary association before asking your clients for testimonials.
To review, here is a quick checklist to help you organize your action items for local SEO success. We hope you find these tips useful!
Your Local SEO Checklist for Vet Clinics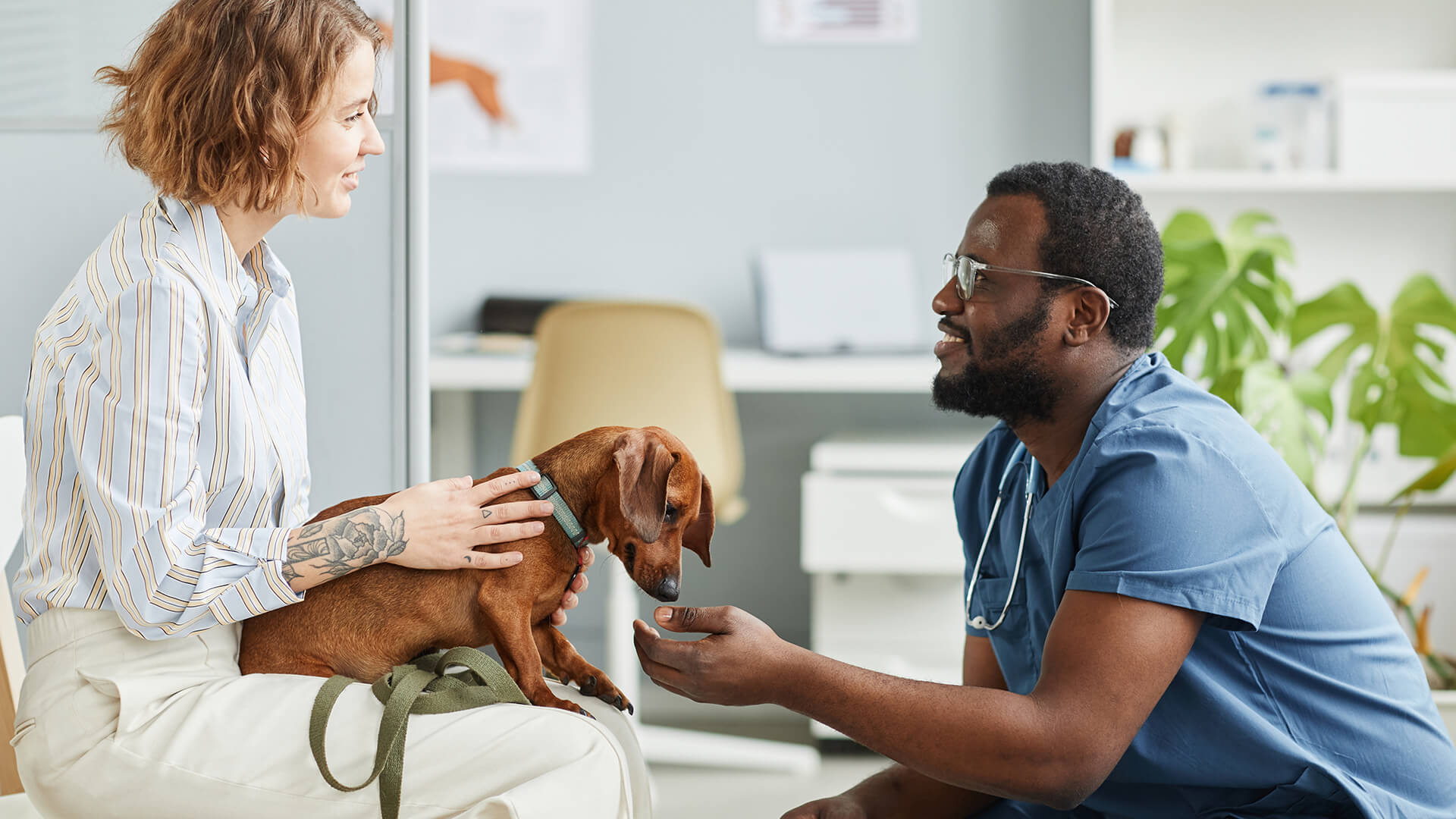 Review my "Contact Us" page information

Add staff bios with local content

Make sure my contact information and hours are in my website's footer

Blog regularly on topics of local interest

Be active on social media

Check my local listings on the major sites

Am I on Google, Yelp, and Facebook?

Are my listings consistent?

Monitor and respond to my reviews

Get more reviews (especially on Google My Business)
---
Want to get a head start on your SEO? Check out WebDVM websites! They're mobile- and search-friendly.
---