ClientEd
Client Education Resource
Informed pet owners make better pet health care choices
Pet owners are more likely to comply with veterinarian recommendations when they are better educated about the diagnosis, treatment, and expected outcomes of their pet's health care.
LifeLearn's one-of-a-kind client education resource, ClientEd, helps improve client compliance and animal health outcomes through access to one of the industry's largest pet health libraries. ClientEd's library has more than 2,000 illustrated pet health articles written and reviewed by animal health experts, designed specifically for effective client education.
With ClientEd, your veterinary team will have all the tools they need to communicate more effectively with pet owners on your website, during visits, and in follow-up. So they're more likely to comply with your treatment recommendations.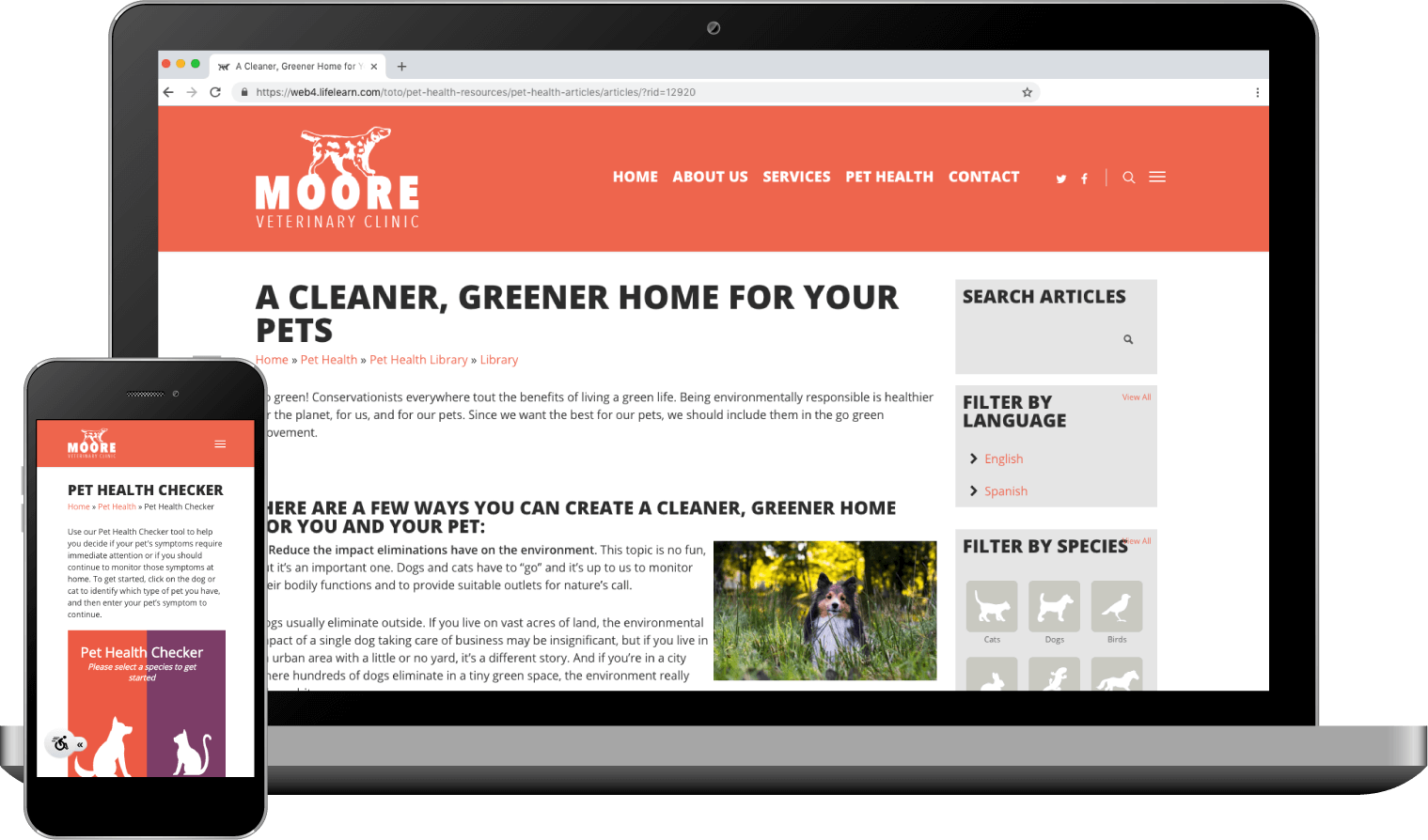 Replace "Dr. Google"
Prevent your clients from relying on unvetted advice online. ClientEd is integrated within your website, ensuring your practice is the credible, go-to resource for pet owners to make better health care choices.
Reinforce your recommendations
Emphasize your diagnosis and treatment advice with articles written and designed specifically for clients. Hand them out, email them post-visit, and share them online.
Integrate with your practice management system
We integrate with some of the most popular practice management systems, so you can save time and access ClientEd articles right from within your existing software.
Increase compliance using plain language
To effectively improve compliance and patient outcomes, ClientEd articles are written in plain language, making them easily understood by pet owners.
Prior to investing in the LifeLearn client handouts, we would photocopy information from books for our clients. This information had no link to the practice, looked unprofessional, was too technical and may have caused some confusion and therefore caused the clients additional worry. The LifeLearn client handouts are professional, colorful, laid out in a nice way and easy for our clients to understand. They provide good general information which does not conflict with consultation advice and they cover all the options available always referring back to the veterinary practice

—Nadine Fletcher, Veterinary Nurse, Summerhill Veterinary Centre
ClientEd features include:
Relevant images or medical illustrations to further increase understanding
Short digestible content
Up to 50 user accounts accessible through the platform from anywhere, at any time
Practice software integration, with automated prompts to print articles for clients
Customize article content without changing the source articles
A monthly ClientEd Digest email highlighting new articles and updates
The ability to share articles branded to your practice on social media
Nearly 200 drug articles to comply with new state laws
New U.S. state laws now require veterinarians to provide detailed pet medication information to pet owners each time a pet medication is initially provided or prescribed in an outpatient setting. Veterinarians must further provide a paper copy of the information if clients ask for it. ClientEd's ready-to-use client handouts include 194 pet medication articles (27 of which were recently updated or added), and 30 more are coming soon. Learn more about the new U.S state law here.
ClientEd is included with every WebDVM website
All WebDVM websites include a full ClientEd subscription, seamlessly integrated to provide your clients with access to the right information when they need it most, on desktop or mobile.
Upgrade your ClientEd subscription with a WebDVM website
WebDVM includes the full ClientEd library, so you can customize and enhance your clients' online experience. WebDVM includes a custom website and additional tools to help maximize client education and improve pet health outcomes. 
| | |
| --- | --- |
| USD/MONTH | $55.00 |
| CAD/MONTH | $55.00 |
USD/MONTH
$55.00
CAD/MONTH
$55.00