Between diagnosing pet problems, finding viable treatment options, and fighting for client compliance, chances are you don't get much time to explore new ideas for building a more engaging social media presence.
We hear you! Connecting with pet owners on social media takes time, but when invested wisely, it's never time wasted.
We have talked about efficient ways to streamline your social media process, and now we're shifting gears to show you the most effective types of posts to best engage your clients, with a minimal investment of time.
Pick your platforms strategically
You might think that posting the same content across all your social media accounts saves time, but not all content works effectively on every platform.
Text-heavy posts, for example, might flourish on Facebook but tank on Instagram, because Instagram is geared toward images. Try to strategize which types of posts will suit each platform best to avoid wasting your time.
What kinds of social media posts engage pet owners best?
In order to make your investment in social media worthwhile, you need to cultivate material that evokes a positive response from pet owners—and these kinds of posts are proven to help.
Images and videos
It's no secret that people love pictures, and when you work at a veterinary clinic, there's no shortage of opportunities for a quick photoshoot or a behind-the-scenes live video to spark likes and shares on social.
Aside from being super easy and quick, visuals can expand your reach to find new clients and improve client retention. Why? They're fun, trendy and can offer an inside look at the goings-on at your practice—which is great for building transparency too. Just be sure to get pet owner permission first!
As a bonus, not all your social media content must come directly from your practice. You can share pet videos from across the web too, a proven way to make your clients smile and click that like button.
Interactive content
Want to move beyond just likes and retweets? Interactive content invites pet owners to directly engage with media that responds to their clicks and comments automatically.
Think polls, quizzes and the like—all designed to entice a more active audience. Don't worry, quizzes are easy to set-up, and you can use a free tool like SurveyMonkey to get started.
Plus, Facebook has a poll option built right in! You can find it under the Publishing Tools heading on your Veterinary Facebook Page:
1. Select the

button at the top far right corner.
2. Click the + Option from the "Create New Page Post" Window.



3. Select "Create a poll for people to vote" from the dropdown menu.



4. You can input any question you like, as well as a few answer options your audience can use to vote on their response. All you have to do is hit Publish!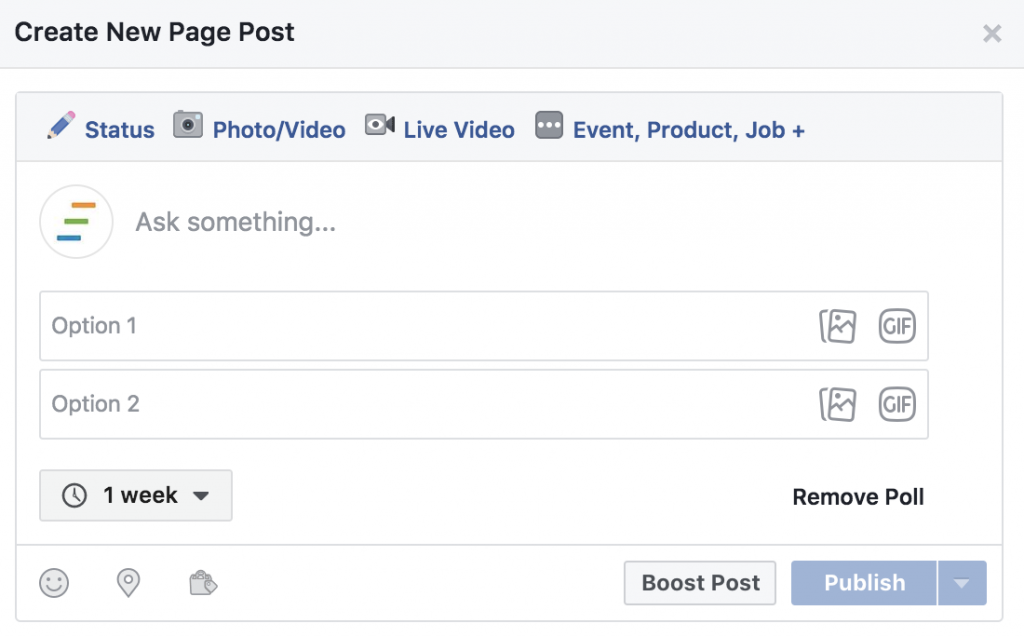 The idea here is to ask questions directly to pet owners about their experiences and thoughts, so you can start a quality conversation. It can even be as simple as typing up your question in a regular Facebook post, if you're short on time.
These kinds of posts aren't just beneficial for engagement rates—they can also tell you a lot about what your clients are thinking.
Lists and how-to posts
When it comes to sharing client education on social, lists and how-to posts are a great way to start. There's something magnetic about a list post, triggering our innate compulsion to discover new things and cross them out as we go.
How-to posts boast value right in the headline by promising to teach your audience something catchy, and lists keep your content organized, sharable, and memorable. That's a major win for client compliance too!
Essential pet care information
Not all educational content is best suited for a list or how-to format, so feel free to share informative materials any way you see fit. Pet parents today want to be kept abreast of industry news, product recalls, and best pet care practices—sharing this type of content is a great way for you to establish your practice as the pet health expert in your area.
Emotional posts
Ultimately, the quickest way to a pet owner's heart is through their beloved pets. Sharing fun, sweet, funny and inspiring stories of pet patients helps you build trust with your clients by showcasing a pet-centric practice.
Far too often, veterinary practices can be a daunting, scary, and even sad place for pet owners. By emphasizing the positive elements of pet care on your social media, using these time-saving engagement tips, you'll gain more than just new followers—you'll build better communication with pet owners too.
---
Are you ready for the busy season? The LifeLearn ECOsystem can help you save time engaging pet owners at your practice—find out how!
---
Facebook, Surveys