Pet Owners Want Curbside Service Post-COVID
Though curbside had its challenges for pet owners and clinic teams alike, pet owners want curbside post-COVID:
A February 2021 study by

Brakke Consulting

concluded, "The obvious safety and convenience of [curbside] seem set to stay even as society returns to pre-pandemic norms. An interesting dynamic is that although 80% of vets believe owners will revert to in-clinic visits post-pandemic, many owners are happier with curbside service."

In a survey of 1,000 pet owners by

M/A/R/C Research

, 86% thought the curbside treatment was good or very good for their pet, 28% felt curbside was better than a conventional veterinary visit, and 48% would use curbside post-COVID.
Veterinary Telemedicine Projected to Boom Post-COVID
Because relatively few pet owners used telemedicine pre-COVID, pet owners were understandably slow to uptake telemedicine during COVID. Yet where the growth of any product or service hinges on demand, the Veterinary Telehealth Market growth trends report released in August 2021 projects a 19% compounded annual growth rate for the veterinary telehealth market from 2021 to 2016.
Growth projections are linked to the on-demand nature of telemedicine. According to an August 2021 report by Today's Veterinary Business, younger pet owners (which make up some 60% of the U.S. pet-owning population) are both "technologically advanced and very conscious pet owners." As such, they "want on-demand veterinary services that allow for optimal pet care and wellness."
Curbside and Telemedicine Benefits for Clinics
In addition to pet owner demand for telemedicine, Today's Veterinary Business recommends that practices adopt telemedicine for five reasons:
Better workflow efficiency and more time to focus on in-clinic clients and patients

Increased clinic revenue

Better client retention and lower turnover rates

More work-life balance for veterinarians

Appeal (and retention) for veterinarians looking for a career in telemedicine
For curbside, some clinics are planning on keeping it as part of normal operations. To save time, improve workflow efficiency, and reduce waiting room stress for pets and nervous pet owners, some clinics are currently using curbside for clients making medication refills or food purchases.
3 Telemedicine Myths That Many Veterinary Practices Still Believe
Given the relative infancy of veterinary telemedicine adoption, many veterinary practices remain hesitant to adopt telemedicine because of three lingering myths:
"Telemedicine platforms are unnecessary when there are free video chat tools like Zoom."

"The need for telemedicine will disappear once COVID-19 and curbside care are over."

"Using telemedicine will require extra time, and I don't have extra time."
As understandable as these beliefs can be, here are the facts:
Free Video Chat Software Can
Cost
Practices
Free video chat software has many limitations for veterinary practices that can reduce efficiency and cost time and money:
Free video chat software does not automatically sync data from online consultations to practice management system medical records. So, all patient information exchanged prior to or during Zoom consultations (including text, pictures, and video) must manually be entered into patient medical records. This costs time and labor (which have dollar values) and reduces efficiency.

Free video chat software does not have asynchronous communication and is designed for synchronous conversations (i.e. real-time face-to-face communication), which naturally present scheduling challenges for veterinarians or team members and create time inefficiencies for busy practices.

Free video chat software does not have veterinary-specific tools and features like an AI-driven teletriage Symptom Checker built right into the platform and does not allow practices to invoice or collect payments from clients directly from the platform.
Telemedicine Is Here to Stay
In a recent video interview with NAVC Editorial Director Patricia Wuest for the Veterinary Virtual Care Association, Mark Cushing, CEO and Founder of Animal Policy Group, cites how human telemedicine took off some 30 years ago to serve people in rural areas who weren't receiving medical care because they could not physically reach a doctor. And he sees veterinary telemedicine growing for the same reason—increased access and convenience for people who may otherwise not be able to visit a veterinary clinic in person.
Cushing uses the example of an elderly woman who owns a cat and lives on the seventh floor of an urban apartment building. In order to physically see a veterinarian, the woman would have to "put [the cat] in a crate, if she can pull that off, go down seven floors, walk out to the bus stop, get on a bus, make three connections, and walk to a clinic. Who are you kidding? [She's] not going to do that." As a result, the woman's cat may not get the veterinary care it needs, even though the woman is a loving cat owner who'd be more than happy to pay for veterinary care.
Because many veterinary practices have already seen how telemedicine increases access to veterinary care, in addition to improving practice efficiency, increasing appointments, and strengthening client relationships, Cushing says, "There's no question that a lot of states and a lot of veterinarians are going to reconsider how we work with telemedicine," adding, "I don't think we're going to go back to February 2020 status quo."
"By the way," adds Cushing. "If your clients are millennials"—the primary pet-owner demographic—"they've answered every survey saying, 'We want telemedicine as a tool'."
Telemedicine Saves Time for Practices
Telemedicine systems save practice time by improving efficiencies in a variety of ways. A few examples:
Telemedicine systems that sync data from online consultations to practice management system medical records (a.k.a. PIMS integration) saves practice time and improves efficiency because veterinary teams do not have to manually enter information exchanged prior to or during consultations into patient medical records.

Telemedicine systems with asynchronous communication (allowing two people to share information but not requiring both parties to be present at the same time) allow veterinarians to communicate with pet owners according to their schedule and the urgency of a situation. This flexible method of telemedicine support also saves practice time and improves efficiency.

Telemedicine systems with an AI-driven teletriage Symptom Checker help pet owners assess the urgency for veterinary care and provide a recommendation for appropriate next steps, which saves practices time in triaging patients.

Telemedicine systems with automated remote monitoring re-checks provide a more efficient way of conducting post-care follow-ups while increasing compliance. Veterinarians no longer need to dedicate time in the day to perform call backs because they can chat with the client in between appointments. They also no longer need to manually capture what is discussed since the communications are automatically added to the PIMS medical record.
How the complete telehealth solution Petriage frees up time and boosts efficiency

1. AI-driven teletriage tool
Inefficient process: Without a teletriage tool, clients with a pet health concern must make a call to their clinic and must make the call during a clinic's hours of operation. A receptionist answering the phone must triage the concern to determine urgency and schedule an appointment, but  a receptionist may have little to no medical background for triaging and not know proper clinical protocols for determining urgency.
Efficient process: With Petriage, clients with a pet health concern can use Petriage's AI-driven Symptom Checker any time—day or night—to determine the urgency of the concern and a corresponding time range for receiving care. If a triage outcome is not an emergency, the client (or the clinic) can then initiate an eConsult—virtual consultation. This frees up time, since the staff does not have to triage the client over the phone and the triage data is automatically stored in the PIMS medical records.
2. Asynchronous virtual telemedicine consultations
Synchronous chat means two people (a veterinarian and a client, for example) are speaking with each other at the same time (or in sync), whether in-person, by phone, or by video chat.
Asynchronous chat allows two people to share information, whether through text messages, images, or video clips, but both parties do not need to be present and share information at the same time.
Inefficient process: Whether in-clinic or virtual, synchronous communications can naturally present scheduling challenges for veterinarians or team members and create time inefficiencies for busy practices. Also, using an exam room or other physical space for dedicated client conversations is not an efficient use of resources.
Efficient process: In an asynchronous chat, a veterinarian does not need to respond in real time and can communicate according to their schedule and the urgency of the situation. Also, a client can share images or videos and a description of their pet's health issue at their convenience instead of trying to capture symptoms on a live video consultation. A member of the veterinary health care team then has time to review the information and provide consultation through the chat within an appropriate time frame, providing a flexible method of telehealth support that improves efficiency, saves time, and does not use up valuable practice resources.
3. Automated Remote Monitoring
Inefficient process: Having a client and patient physically come into a clinic for re-checks is an inefficient use of time for both practices and pet owners when a pet is improving.
Efficient process: Petriage schedules remote monitoring appointments using eCheck. When a client is sent a Petriage eCheck, the first thing the client is asked is if their pet is improving, or if their pet is the same or worse. If the pet is not improving, they're asked to answer optional follow-up questions about their pet's condition, after which they may join a chat session similar to an eConsult where the veterinarian can advise on next steps or request more information. eChecks provide a much more efficient way of conducting post-care follow-ups while increasing compliance.
4. PIMS integration for automatic medical record keeping
Inefficient process: Manually capturing and transcribing triage, consult, and re-check data into PIMS medical records costs practice time and reduces efficiency.
Efficient process: Petriage uses the power of PIMS integration to automatically sync triage, consult, and re-check data for seamless medical records keeping. PIMS integration saves your staff time and improves overall practice efficiency, making it easy for any practice to integrate virtual care.
Start Petriage for Free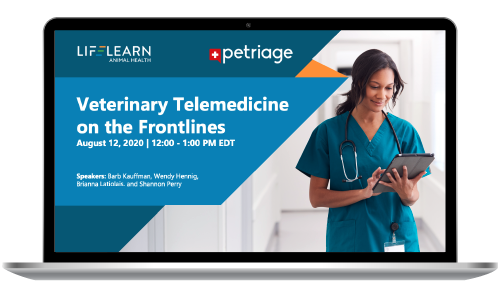 Whether you have a telemedicine system or you're looking for a new one, now is a great time to discover why Petriage is the superior solution in veterinary telemedicine.
To help your practice better serve clients, save time, and improve efficiency, we're offering the complete Petriage telehealth solution.
How Petriage works:
Customize your clinic preferences and pricing and invite clients to join your Petriage portal through email, social, or in-clinic visits.

Capture cases by consulting directly with clients via the Petriage app.

Deliver consistent, high-quality care online and off, with all communications attached to a pet's medical record.
There are no setup fees for Petriage, which provides for unlimited staff users and unlimited consultations, and you can be up and running in as little as one week.
Contact LifeLearn today to find out more about Petriage.