Complete Telehealth Solution
Petriage is a unique, robust, and flexible telehealth solution to easily integrate virtual veterinary care into your modern-day practice. Designed to optimize practice operations, efficiencies and patient care while adapting to changing protocols, Petriage empowers veterinarians to remotely care for patients while strengthening client relationships by increasing online consultations and compliance.
Teletriage
24/7 client triage tool drives appointments to your practice
Patent-pending Petriage Analysis Symptom Checker provides clients with free 24/7 access to Petriage's AI-driven triage algorithm, which quickly provides an analysis of symptoms with increasing levels of urgency and a corresponding time range for receiving care
Accessible through your practice website or the Petriage mobile app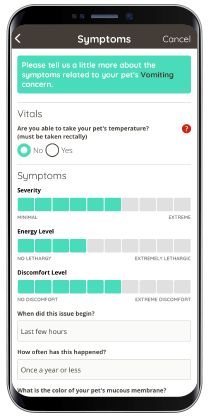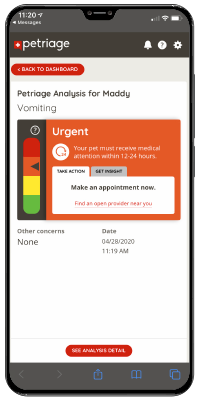 Telemonitoring
Increase compliance more efficiently while increasing revenue
eCheck Remote Monitoring enables veterinarians to schedule remote monitoring appointments allowing clients to share photos and videos as needed, providing a more efficient way to conduct post-care follow-ups while increasing compliance
An intuitive and easy-to-use Petriage Clinic Dashboard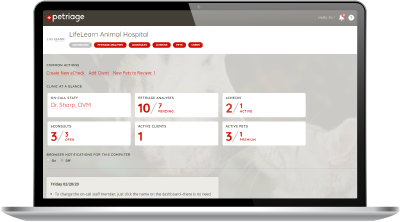 Telemedicine
Virtual veterinary care made simple through PIMS integration for seamless medical record keeping and invoicing
eConsult Online Consultations enables clients to request a virtual consultation with their veterinarian and exchange photos and videos
Custom consultation fees and invoicing allow veterinarians to set their own prices
Custom scheduler allows veterinarians to easily set up and modify their consultation availability
An intuitive and easy-to-use Petriage Clinic Dashboard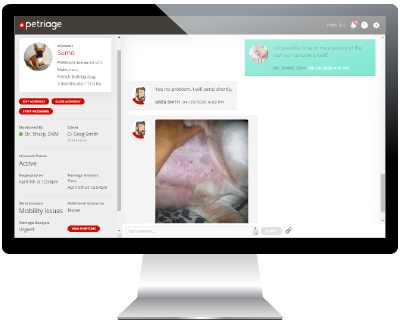 PIMS Integration = The Petriage Difference
Petriage has read and writeback capabilities to automatically sync triage, eCheck, and eConsult data with your practice management system's medical records.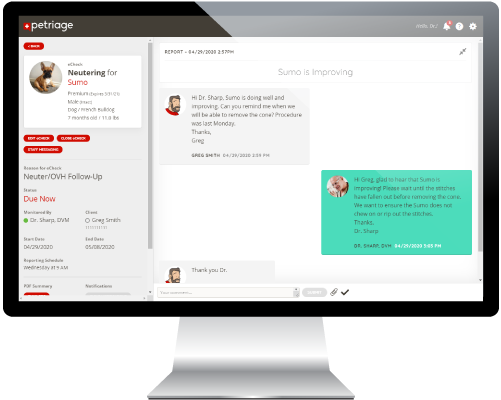 How It Works
1. Customize your clinic preferences and pricing and invite clients to join your Petriage portal through email, social, or in-clinic visits.
---
2. Capture cases by consulting directly with clients via the Petriage app.
---
3. Deliver consistent, high-quality care online and off, with all communications attached to a pet's medical record.
Prices Start at $49/Month*
Petriage is available in three levels. Schedule time with one of our subject matter experts to help you determine which one is right for your practice.
No Setup Fees
Unlimited Staff Users
Unlimited Consultations
Be up and running in as little as one week
*US dollars. Canadian price starting at $69/Month.