Gingr
Pet Parent Education Powered by LifeLearn
Simplify Your Business Growth
Today's pet service customers want one-stop convenience when it comes to booking appointments online, making payments, and finding trusted pet health information.
As the leading online appointment and customer management solution, Gingr simplifies and supports the growth of pet service businesses by streamlining and centralizing reservation management, point-of-sale transactions, and much more. To give pet owners the trusted pet health information they seek, pet service businesses now have the option of integrating a powerful library of trusted pet health information into Gingr's software system: Gingr Pet Parent Education Powered by LifeLearn.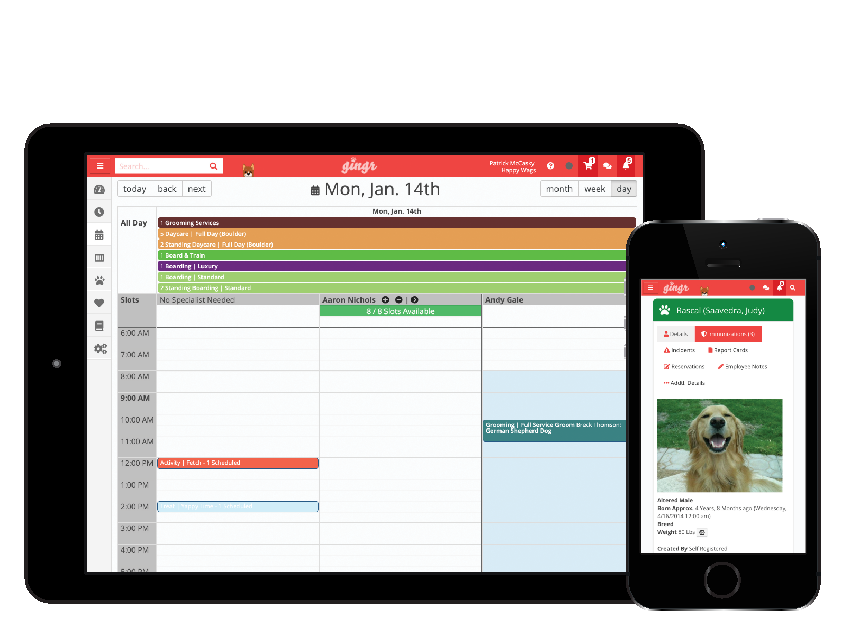 Attract More Customers with Trusted Pet Health Information
Gingr Pet Parent Education (GPPE) is a custom offering created for your pet service business from LifeLearn's online client education library, ClientEd. Powered by LifeLearn's 25 years of experience providing pet health education, GPPE delivers both pet owners and pet service businesses with access to over 1,600 articles relating to pet parent education. Trusted by veterinarians across North America, GPPE serves the needs and questions of pet owners.
Feedback from the pet service industry shows the continued high demand for the trusted information articles found in Gingr Pet Parent Education.
Millions Trust in Gingr
When a business provides the in-demand information that pet owners seek, they gain a competitive edge in a market occupied by thousands of competing services.
Since its introduction in 2013, Gingr now has over 2-million users and has served nearly 3-million pet parents with a wealth of features that multitask for you to make running your business easier, including:
Improved Client Engagement with GPPE
One thing will always be true in business: An engaged customer tends to be a loyal customer, and today's pet owners are always searching for trusted sources of pet health information. When you add the optional Gingr Pet Parent Education pet health article library to Gingr, you provide pet owners with the information they want, and that keeps pet owners engaged and returning to your business.
Getting Started Is Easy
Gingr is intuitive and user-friendly, requiring little training for most users, and enjoys the highest standard in data security. Best of all, you don't have to commit to anything to see the benefits of Gingr for yourself.
Visit www.gingrapp.com today for your personal demo and consultation.