WebPS
Custom Websites for Pet Services
Attract and convert more clients today
How clients find your business and how you engage and grow your relationship with them can make the difference between your pet service business struggling to get by or growing in leaps and bounds.
LifeLearn WebPS websites are custom-built to strengthen your online presence, reflect your brand and connect with more pet owners. Complete with search engine optimization (SEO), built-in blogging and prewritten articles, WebPS's responsive platform maximizes your reach with minimal effort.
WebPS is available in four editions, letting you choose the best features that fit your needs, including Essential, Standard, Premium and Exclusive.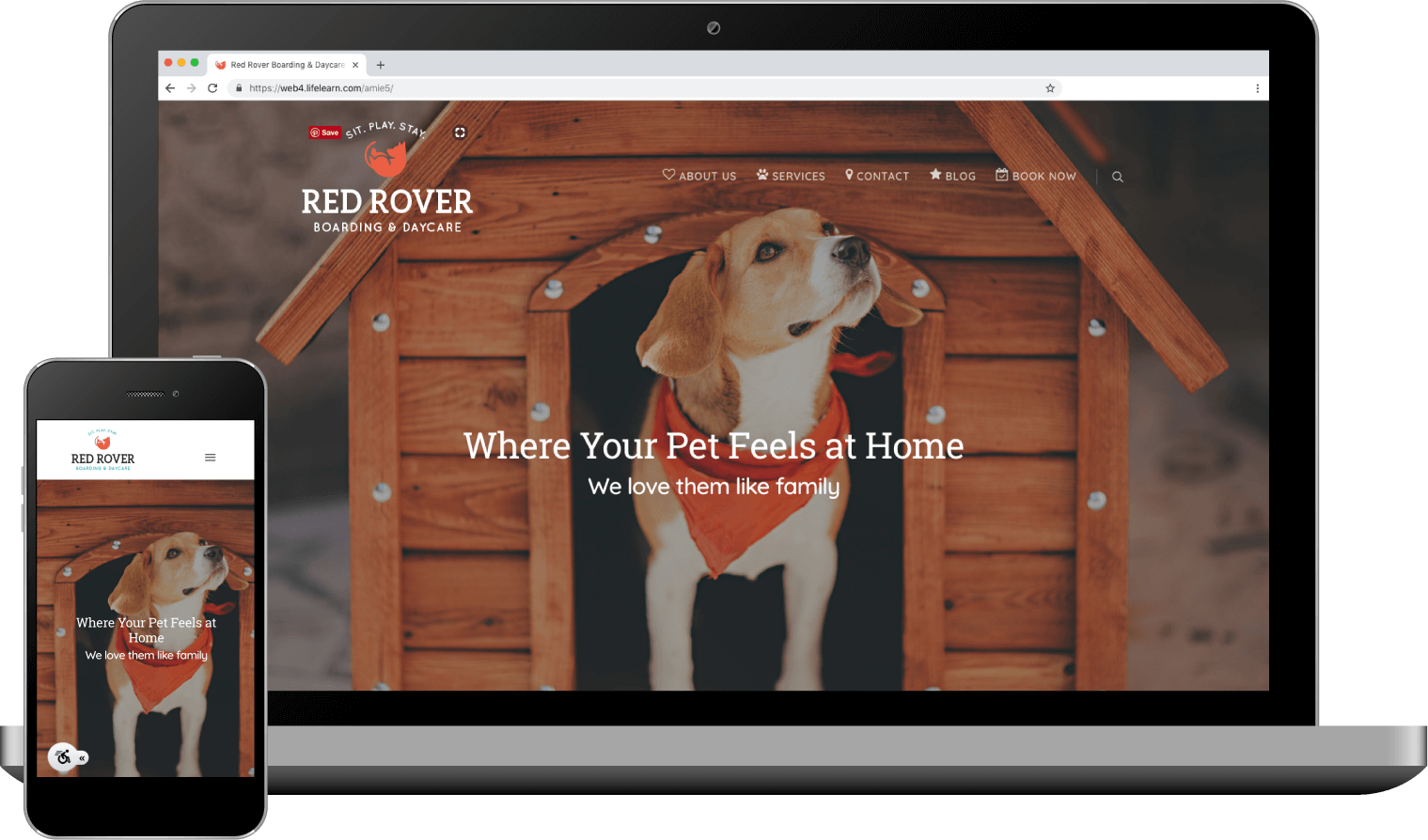 Rank higher on Google
Our LifeLearn SEO Specialists can optimize your WebPS website with local keywords and phrases to help put your business at the top of search engine results like Google and others.
Highlight your business's true colors
Our LifeLearn website design team creates your new website using our robust WebPS development platform, which is then tailored to reflect your business personality. Customized navigation and responsive pages simplify your current and prospective clients' ability to find and explore your site.
Improve client trust in your brand
According to research by Stanford University, 75% of people surveyed said they made judgements about a company's credibility based on their website design. With WebPS, our custom design process allows us to create modern, innovative, and user-friendly sites that reflect the unique style and personality of your business, and instantly convey trust and credibility to your clients. LifeLearn is always building on the value of WebPS by regularly releasing updates and staying current on design trends and best practices.
Market your pet service business more effectively
WebPS website features include:
A custom-designed website
Built-in blogging functionality, a content management system, and website hosting
Online form submissions, appointment booking requests, and full integration with Gingr
The Pet Health Checker, an integrated client triage tool
Easy embed functionality to display and play videos from external sites like YouTube
5 to 25 email accounts branded to your pet service business (depending upon your edition of WebPS)
Toll-free support for maintenance
A WebPS website can also include:
PetNurse
the 24/7 telehealth triage service
Custom Website Content
Custom website content to help you stand out from the competition
Pet Health Insurance information
information to help your clients learn about and choose an insurer for their pet's health care needs
Get Your Pet
an online community of pet lovers that connects potential pet parents with people looking to safely and humanely rehome their pets (US customers only)
PetScribe
custom content for emails, newsletters, blogs, and social media channels
AdLift
custom digital advertising through Google and Facebook to help pet owners find your business
A stress-free process for your team
Our proven implementation process ensures that your vision and input is captured, so we can design and build your online presence with as little of your time and effort as possible.
Getting started is simple:
We will set up a kickoff call to talk about your vision for your WebPS website.
We create your custom website and review it with you, making any changes you need.
We launch your website.
Our support team is here to help
When you call, you deal with a LifeLearn representative who's available to you every step of the way. Our proven implementation process means you get a no-fuss setup, and our team is here to provide toll-free support, and team training once the site is live.
WebPS Edition Pricing
Choose from four editions to best suit your business needs.
| WebPS Editions | Essential | Standard | Premium | Exclusive |
| --- | --- | --- | --- | --- |
| USD/MONTH | $75.00 | $150.00 | $250.00 | $875.00 |
| CAD/MONTH | $75.00 | $150.00 | $250.00 | $875.00 |
WebPS Editions
Essential
Standard
Premium
Exclusive
USD/MONTH
$75.00
$150.00
$250.00
$875.00
CAD/MONTH
$75.00
$150.00
$250.00
$875.00
$75.00
$150.00
$250.00
$875.00
$75.00
$150.00
$250.00
$875.00