COVID-19 Practice Resources

Keeping your clients informed during the current COVID-19 pandemic is crucial.
With so much information (and misinformation) available, it's important to focus on what we know and stick to the facts. We appreciate your time is valuable and answering questions about COVID-19 may be overwhelming for you and your team as you take care of day-to-day business.
To help, we're providing you with:
four COVID-19 ClientEd handouts*NEW
four social media images*NEW
a curbside history medical history form (fillable PDF and WebDVM form) *NEW
three posters to communicate the status of your practice *NEW
a printable poster
a website banner
a WebDVM COVID-19 page template
LifeLearn will add COVID-19 updates to this download kit as developments happen. Providing your contact information allows us to send updated kit information straight to your inbox so you don't have to download the kit again or miss anything.
You can download the individual assets below:
Existing Customers
We understand the strain this may put on your practice. If you need assistance updating any LifeLearn services to keep your clients up to date, please email [email protected] or call 1 (888) 225-2011. We're here to help.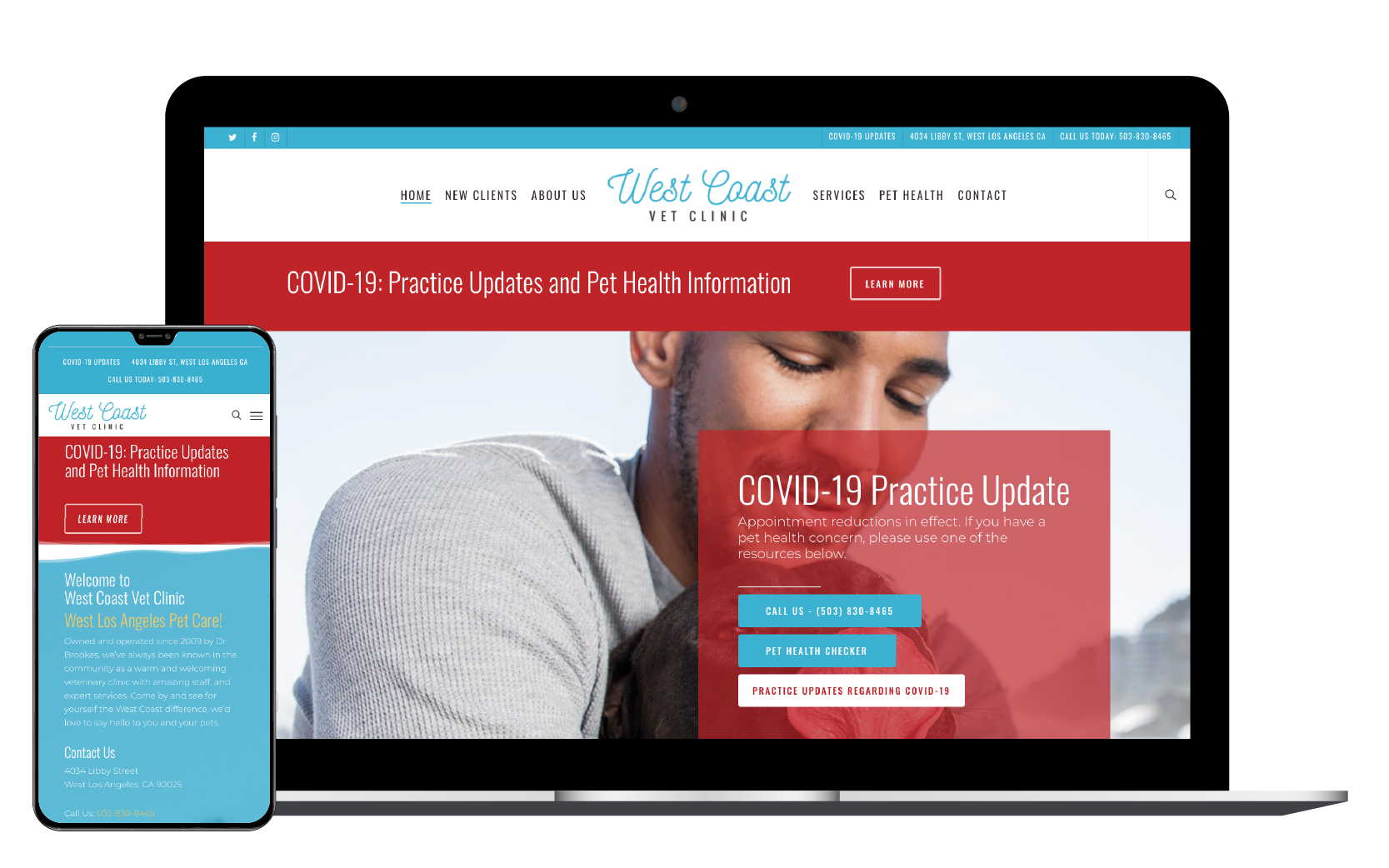 WebDVM Announcements & Online Resources

Your website is a great tool to keep clients informed and up-to-date. Including a homepage announcement, COVID-19 resources page and accurate client education can go a long way in helping pet owners feel reassured during the coming weeks.

Online tools like Pet Health Checker and Rx/Food Refill Requests are great ways to practice social distancing, while continuing to provide service to your clients.
Visit West Coast Animal Hospital to see our recommendation on how veterinary hospitals can use their website to communicate COVID-19
WebDVM News & Client Education

You can access the COVID-19 ClientEd handout (Official title: Coronavirus Disease (COVID-19)) through your website's ClientEd library and post the link to your social media sites

Our automatic News Updates are published on your website, and we will continue to publish relevant COVID-19 News Updates to help keep your clients informed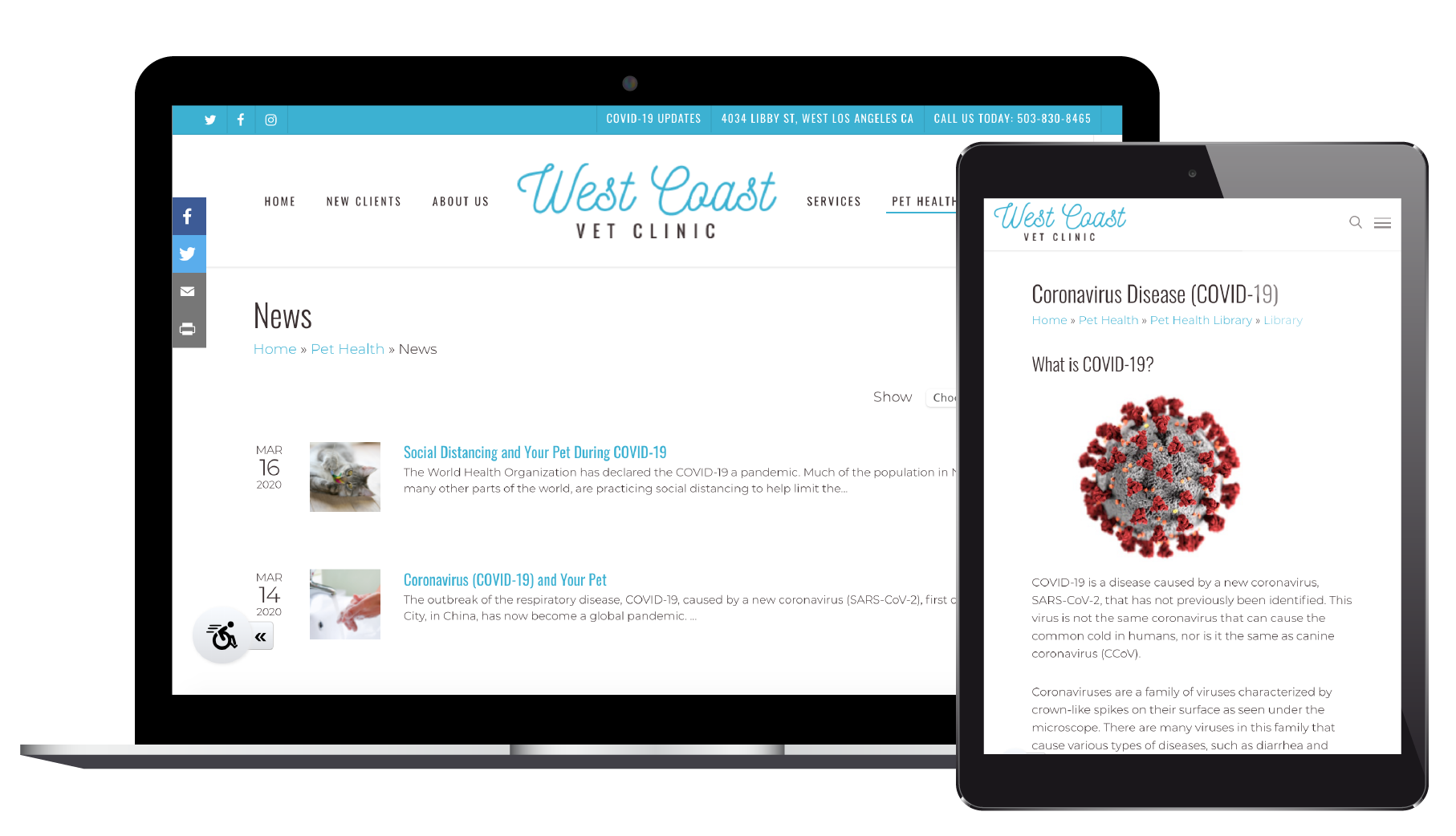 Additional LifeLearn client assets:
LifeLearn Live: Educating Clients About COVID-19
LifeLearn Animal Health's Chief Veterinary Officer, Dr. Mark Stephenson, delivers the facts about COVID-19 as it relates to pets. Dr. Stephenson also discusses best practices for clinics on getting the COVID-19 message out to clients, and chats about LifeLearn's free COVID-19 Response Kit download so overwhelmed practices can get the message out easily through email and their preferred social channels.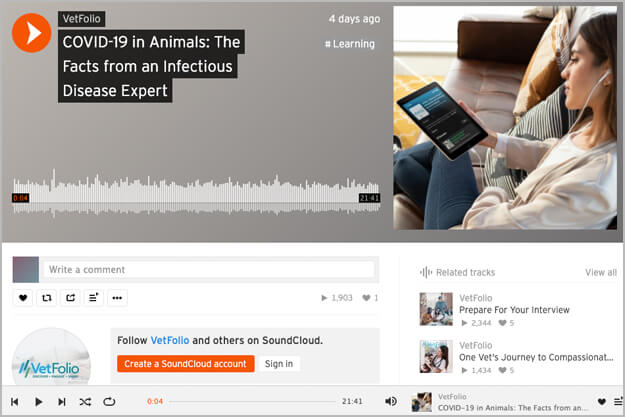 LifeLearn & VetFolio Present: COVID-19 in Animals, The Facts from an Infectious Disease Expert
In cooperation with LifeLearn, VetFolio's Dr. Cassi interviews renowned Ontario Veterinary College, veterinary infectious disease expert, Dr. J. Scott Weese about COVID-19 in Animals. Access the exclusive interview:
Additional Resources for Veterinarians
Coronavirus Disease 2019 (COVID-19) Owner Contact Guidelines for Veterinarians
Reduce your contact. Reduce your risk. Dr. Scott Weese (Infectious Disease Specialist at the Ontario Veterinary College) has developed a flowchart for managing contacts and case admissions to clinics.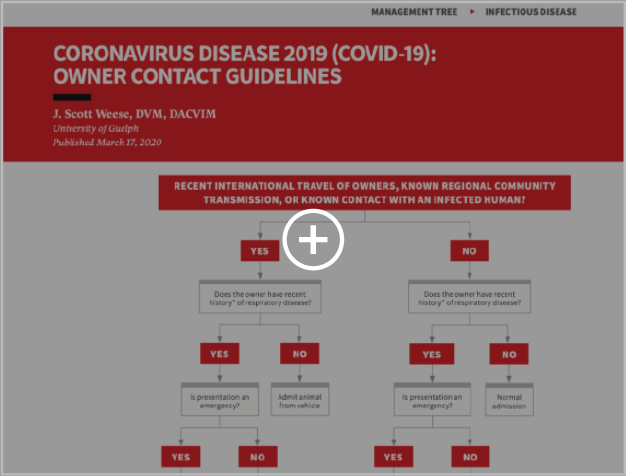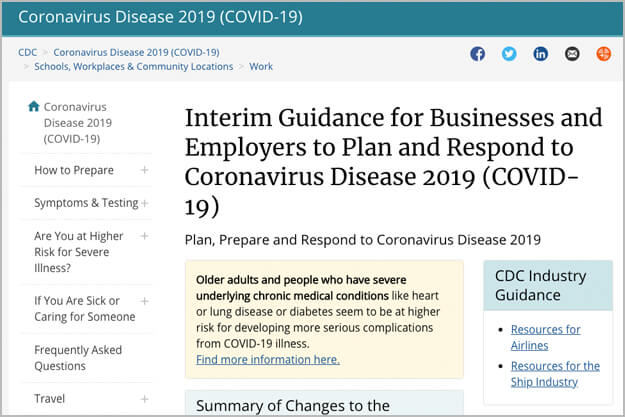 Interim Guidance for Businesses and Employers (CDC)