Practice Tools for the New Normal
The delivery of veterinary medicine has changed
As we move into this new phase of the COVID-19 pandemic, we understand that your practice processes are evolving, whether they're temporary, permanent or "remains to be seen", and efficiency is of utmost importance.
To help your practice adapt and thrive, we have:
Built a COVID-19 toolkit of client communication and education resources for you to use
Compiled a number of highly relevant COVID-19 resources that address the changes in our new normal.
If you would like to be notified of updates we make to our toolkit and resource library, please provide us with your contact information.
COVID-19 Toolkit (updated June 18, 2020)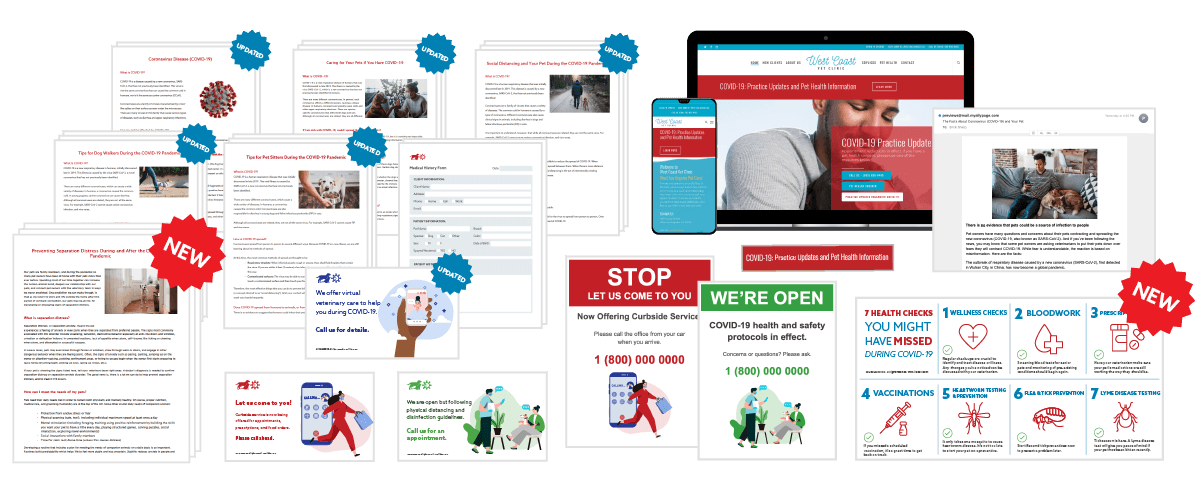 ClientEd Handouts
Preventing Separation Anxiety – NEW
Caring for Your Pets if You Have COVID-19
Physical Distancing and Your Pet
Tips for Dog Walkers
Tips for Pet Sitters
Coronavirus Disease (COVID-19)
Social Media Posts and Posters
Social Post: Wellness Checklist – NEW
Social Post: Virtual Medicine
Social Post: We're Open
Social Post: Curbside Pickup
Poster: We're Open
Poster: Curbside Pickup
Additional Tools
ALLYDVM direct email template
Cubside Medical History Form – Fillable PDF
Cubside Medical History Form – WebDVM Form and How-To Document
WebDVM Announcements & Online Resources
WebDVM Page Template
Relevant COVID-19 Resources
To support your efforts in communicating with clients, managing your practice, and exploring telehealth opportunities, we've categorized our resource library for easy access. We also acknowledge the importance of mental health and wellness during this time of change, and have included resources we hope you will find useful.
We will continue to update our library as new resources become available.
Get the Latest Directly to Your Inbox
We will continue to update our COVID-19 toolkit and resource library as new information becomes available. If you would like to be alerted to these updates, please provide your contact information in the form above.