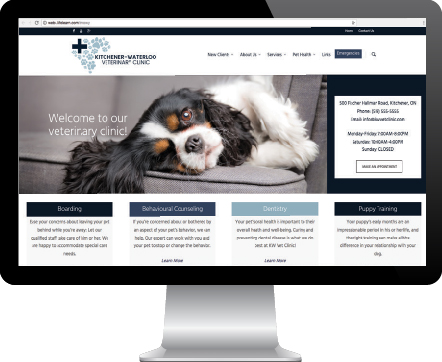 Veterinary Website Design
LifeLearn WebDVM offers more than just veterinary websites. WebDVM provides a complete, mobile-responsive online platform, custom-built to reflect your practice's brand, connect with pet owners, and increase client acquisition.
Fully customized designs and more engaging content enables you to provide the same level of care and attention to your clients online as you do when they visit your practice. WebDVM custom veterinary websites are just what you need to help position your practice as the top choice for pet owners in your community.
Websites Designed For Your Practice
Each WebDVM website is designed by our veterinary marketing team to reflect your practice's brand and includes customized navigation and mobile-responsive technology to help capture your vision and create your online presence – without cutting into your team's valuable patient care time.
You'll be matched with a dedicated LifeLearn team member who manages the entire development and training process, from start to finish. Our websites' built-in, easy-to-use content management system allows you to make ongoing changes on your own, plus our care team is always on hand for you when a bit more support is needed.
Meet Your Team
Work With Your Web Designer
Development And Approval
Celebrate Your Launch!