Veterinary Medical Search Tool Access the Best Veterinary Reference Material in Seconds
Having fast, easy access to the latest and best veterinary medical textbooks, journals and conference proceedings is crucial for veterinary teams to diagnose and treat patients every day. Trouble is, veterinarians, need to remember where to find that information and try to access it quickly at the point of care, and that's not easy to do in a busy practice.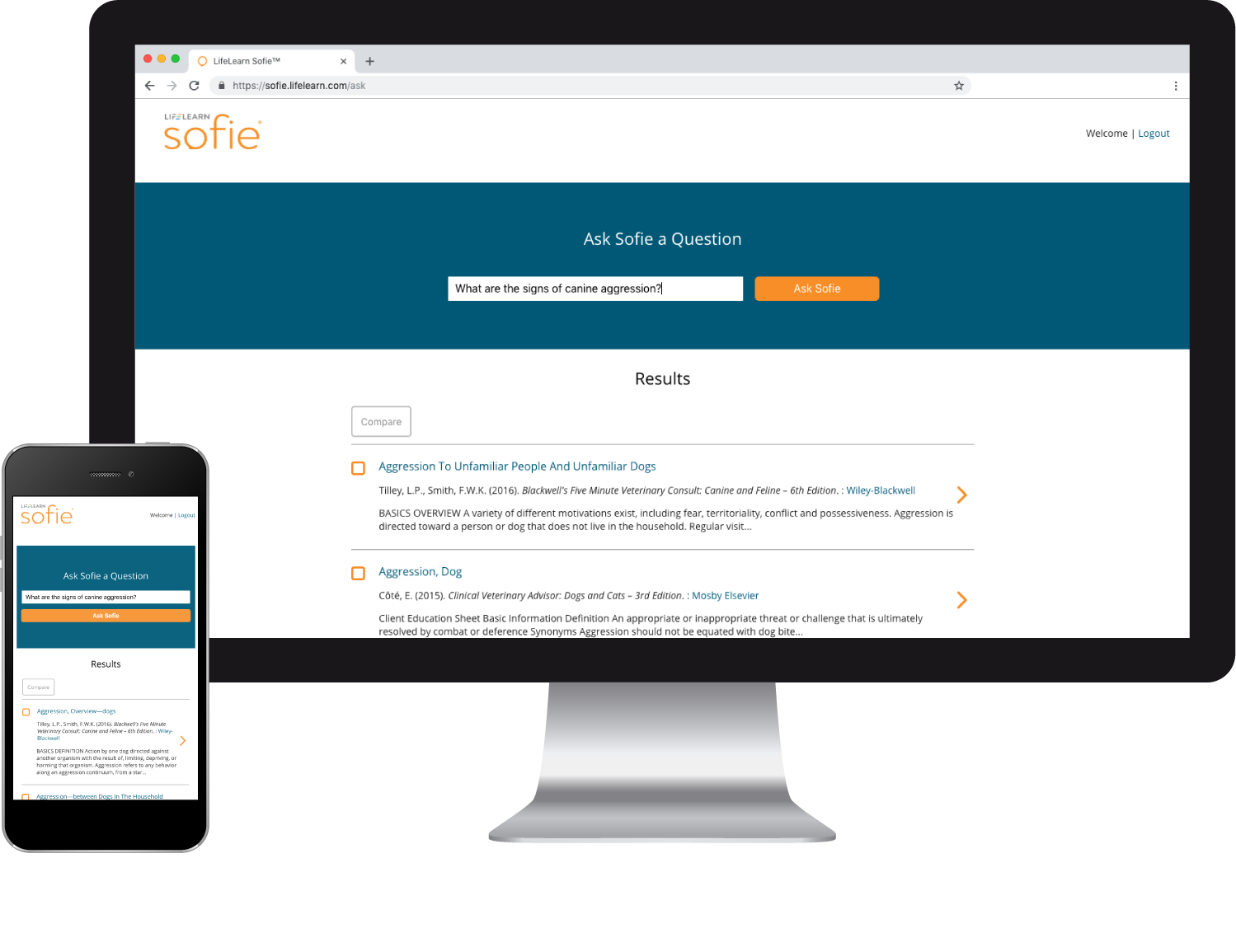 Meet Sofie
Sofie was created by veterinarians for the sole purpose of empowering veterinarians and their teams with faster, easier access to the most current, trusted and credible veterinary medical information. With over 40,000 pages from the best veterinary textbooks, journals and conference proceedings in one powerful online library, Sofie searches multiple sources at once to deliver the most relevant and accurate results.
I use Sofie almost every day. The ability to look up dosages for medications is very convenient. In just about every complicated case, there is usually something I want to look up in order to make sure I'm not missing any major differentials. In a busy practice, just taking a minute to look up differentials is a life saver for my patients.— Melanie Vanicek, DVM
Optimize Your Workflow

Save Time and Optimize Your Practice Workflow Anywhere

Fully optimized for desktop computers, tablets and mobile devices, Sofie gives you instant access to the best veterinary reference material in seconds from virtually anywhere. In clinical trials, 83% of participants reported that Sofie helped them solve a problem.

Stay Current

Stay Current with the Latest Veterinary Information

Sofie includes ongoing updates, so you always have the latest in-demand veterinary information at your fingertips to support the best possible diagnosis and treatment for patients.

Just ask Taylor Moore., DVM.

Click here for Taylor's story

Read more

As veterinarians know, seconds matter in a critical pet care situation. Fortunately, Dr. Taylor Moore of Oceanside Veterinary Hospital only needed seconds to access Sofie when a pup's life hung in the balance.

"I had the program open at work yesterday when I got a call about a possible bee sting patient coming in. After my year away from practice, I wanted to double check my doses for diphenhydramine and dex SP, so I searched for bee sting treatment, found what I needed in about 10 seconds, and was ready and reviewed on the topic within about 30-60 seconds.

When the pup arrived, it was not just a typical bee sting patient – he was in anaphylactic shock and dying. Thanks to my quick Sofie review, I was ready to spring into action and treat the pup with everything he needed and didn't forget any details in the stress of the moment! It was such a testament to the software you guys have created and how much it can improve quality of care as well as quality of life for the vets who will use it. There was no scrambling through Plumb's, pulling emergency drug sheets, etc. after he arrived – I already had all the reference information I needed at my fingertips. The pup is home and doing great today."

Leading-Edge Technology

Empower Your Practice with Leading-Edge Technology

The key to Sofie's leading-edge technology is IBM Watson®, an innovative, cognitive computing system that uses augmented intelligence to rapidly search and deliver information from Sofie's vast information library. This includes everything from differentials and drug information to diagnostic and treatment advice.
Improve the Health of Your Patients and Your Practice
Sofie features include:
Over 40,000 pages of reference-based information
Content from 25 (and growing) trusted veterinary textbooks, conference proceedings and journals
Lightning-fast search results with IBM Watson® technology
Easy implementation with a simple no-fuss setup
Access to Sofie on desktop and mobile devices anywhere at any time
Designed for single or multiple veterinarian access to accommodate any sized team
Publishers page with full citations for added assurance
Easy-to-use comparison and highlight tools to find exactly what you're looking for
Results based on context, not just keywords
Designed to respond to natural-language questions, Sofie delivers results based on context instead of just keywords and guarantees that Sofie will retrieve the most relevant results on searches. Plus, Sofie's easy-to-use comparison and highlight tools help you find exactly what you're looking for.
Created for single or multiple veterinarian access to accommodate any size team, Sofie further allows you to easily create and manage users and reset passwords through your account management profile when purchased through the LifeLearn eStore.
Best of all, Sofie comes complete with a simple, no-fuss setup.
I have a house call practice, so I am on the road 90% of the time. To have a tool which I can take with me to access text books and journals between my calls is very valuable.—Jana Kelton

No more outdated texts or searching the shelves for the right text. As our practice grows, it will also eliminate the need to share resources between multiple doctors.—Paula Bedford
It's Hard to Know Everything
Staying up to date on the latest veterinary medical information can be challenging.
With Sofie, you just ask for what you need and Sofie quickly delivers the most current, trusted and relevant veterinary medical information in seconds.
I found it very easy to use and liked the fact it cited multiple sources.—Emilie Moore, CVT

We can easily access the information needed without making the client wait long.—Ganon Harish, DVM
Discover the advantages of Sofie today
| Sofie | 1 Doctor Practice | 2-5 Doctor Practice | 6-10 Doctor Practice |
| --- | --- | --- | --- |
| USD/MONTHLY | $44.00 | $65.00 | $99.00 |
| CAD/MONTHLY | $44.00 | $65.00 | $99.00 |
Sofie
1 Doctor Practice
2-5 Doctor Practice
6-10 Doctor Practice
USD/MONTHLY
$44.00
$65.00
$99.00
CAD/MONTHLY
$44.00
$65.00
$99.00