Pet Insurance Education Resource
Empower optimal pet health care decisions
Pet insurance empowers pet owners to make health care decisions based on what is best for their pets versus being constrained by finances.
LifeLearn's PetInsuranceInfo.com website is a free service that helps pet owners learn about the value of pet insurance and the questions they need to ask prior to purchasing a policy.
Reflecting LifeLearn's core commitment to help advance pet health and education worldwide, PetInsuranceInfo.com is accessible to pet owners from the web and can also be integrated into WebDVM practice websites.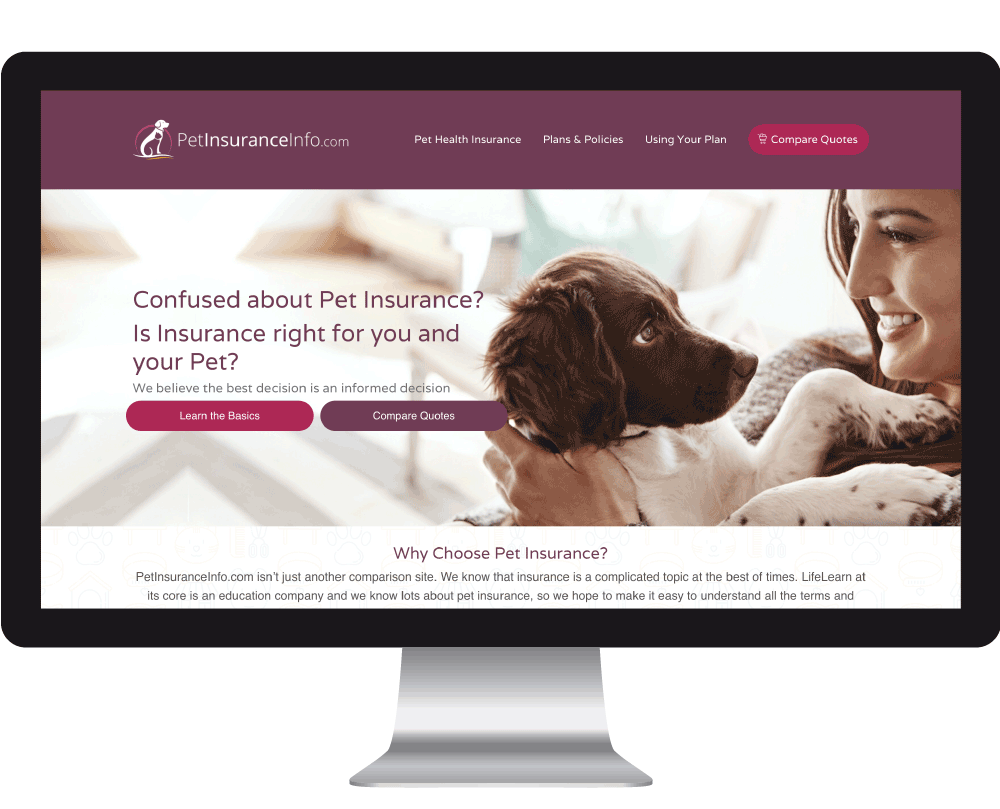 Insurance coverage enables practices to perform better veterinary medicine
Budgeting the cost of pet illness or injury provides pet owners with the financial stability needed to make the best care decisions without relying on credit cards, loans or worse – the agonizing decision to put a pet down because they cannot afford treatment. Educated pet owners are more likely to purchase coverage, which enables practices to perform better veterinary medicine.
Clarity and simplicity = the PetInsuranceInfo.com difference
PetInsuranceInfo.com helps pet owners make informed decisions about purchasing pet insurance by:

1.  Providing comprehensive but easy-to-understand information

2. Demystifying common misconceptions about pet insurance

3. Providing a simple tool for pet owners to compare different insurance coverage and quotes

PetInsuranceInfo.com features include:
A description of the types of plans and coverage to ensure there are no surprises for pet owners when they go to submit a claim
Factors that pet owners can and can't control to better guide pet owners when considering insurance plans and costs
Policy underwriting explained so pet owners are prepared to answer questions up front or during a claim
Coverage periods and waiting periods explained so pet owners understand when their coverage begins and how long it lasts
How claims work and tips for pet owners to help them expedite claims and get the most from pet insurance
The Get a Quote tool, designed to make it easy for pet owners to compare and review policies offered by different pet insurance providers
Choose from the top insurance providers
PetInsuranceInfo.com currently features most pet insurance providers in North America. LifeLearn continues to collaborate with pet insurance providers to add more options for you and your clients. All pet insurance policy transactions are handled directly between the pet owner and the pet owner's selected insurance provider.








Add PetInsuranceInfo.com to your WebDVM website
Ask our team to integrate some of the educational content into your practice website to provide clients with quick, seamless access to trusted information. Clients then using your website will be given the opportunity to request a quote from the pet insurance brands that your practice supports.
Contact us to learn more about integrating pet insurance information into your WebDVM custom veterinary website today!
Contact Us     Download Product Sheet
Pet Insurance Info, Inc. is a licensed insurance agency in all 50 States and the District of Columbia; In California doing business as Dog and Cat Insurance Solutions and in New York as Dog and Cat Insurance Services.