ALLYDVM
Communication + Retention System
Optimize your client communications and clinic profitability
On average, veterinary practices have over 1,091 active patients who are missing reminders, and 19 chances per day to schedule additional appointments for those patients. Adding even just one extra appointment per day will result in better financial outcomes for your practice, and greater health outcomes for your patients.
ALLYDVM's sophisticated communication and retention system is one of the veterinary industry's most powerful software solutions for improving client communications, engagement, and patient health. The ALLYDVM solution includes a unique Retention Calendar, a powerful Client Communications system, a convenient client-facing Mobile App and an optional, engaging Loyalty Program.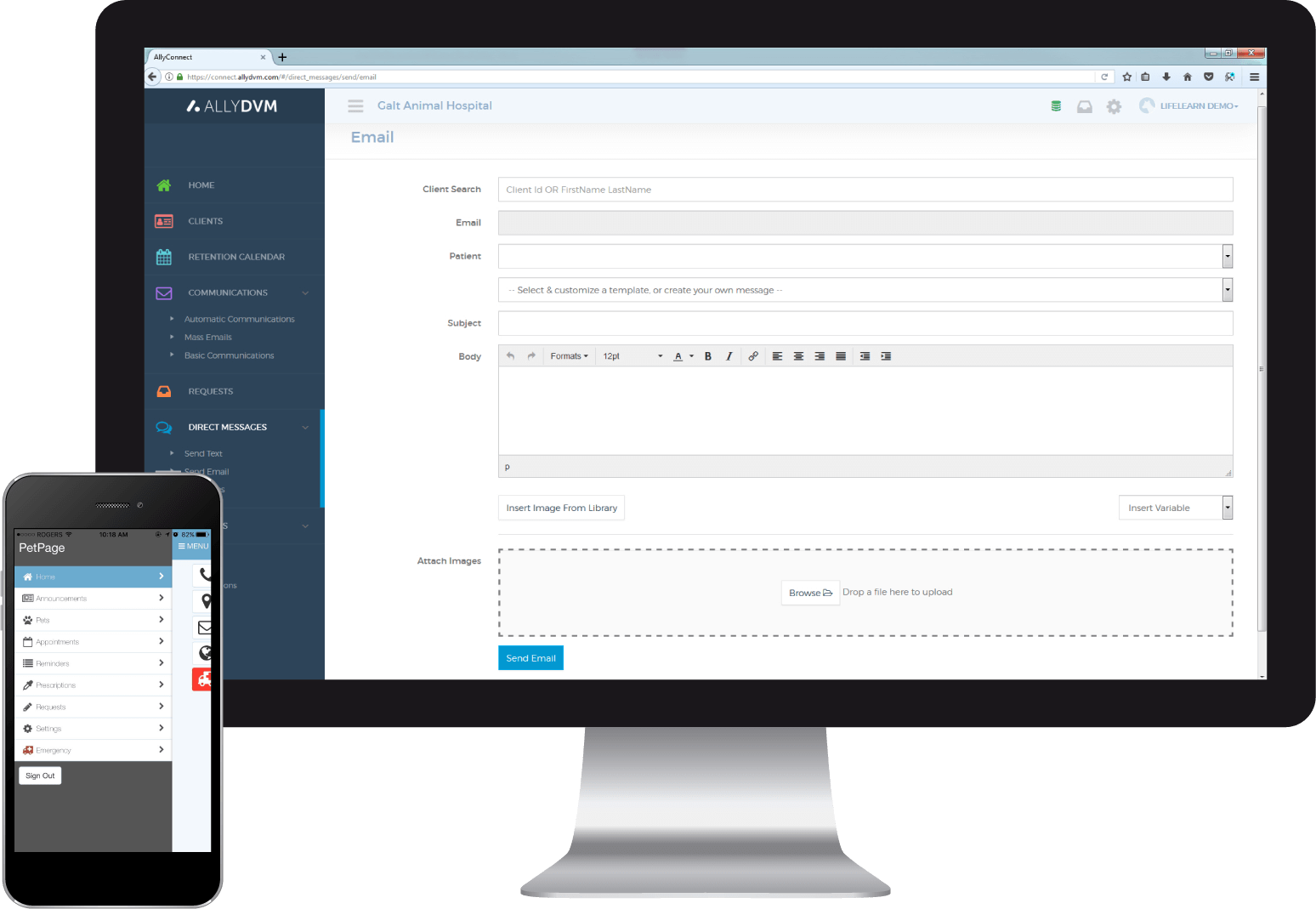 ALLYDVM features Include:
A Retention Calendar integrated with your practice management software (PIMS) to flag appointment booking opportunities to increase ROI
Alerts notifying your team of missing contact information within your PIMS
A client request system for patient updates and prescription refills
Proprietary PIMS sync solution to keep your practice data safe
Unlimited reminder communications with unlimited deliveries
A practice-branded app, available through the Apple App Store or the Google Play store, gives clients access to pet health records
Client download of the PetPage app from the Apple App Store or Google Play Store
A customizable and automated communications system for email, text messages and postcards
Two-way texting to send your clients custom reminders, reschedule appointments, and update them on surgery status faster than before
Net Promoter Score tool to gauge client satisfaction
Encourage more return visits
Add ALLYDVM's Loyalty Program to keep clients engaged and returning to your practice. Simply pick the rules and the reward that works for your practice setting it up once and reward your clients for their continued loyalty.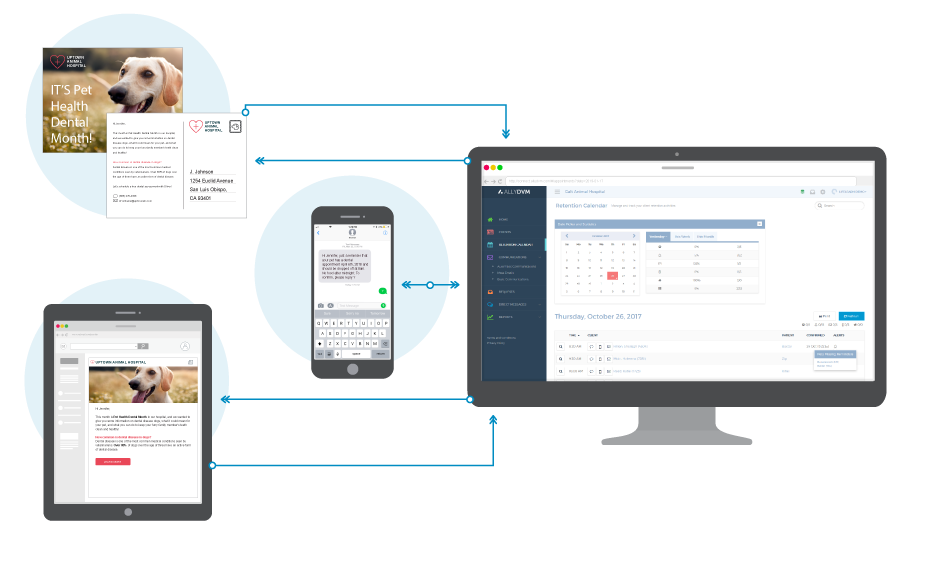 ALLYDVM Pricing
Choose the option that best suits your practice needs. Are you a member of OVMA and CVMA? Members save 10% off the monthly purchase price.
| ALLYDVM Pricing | Communication + Retention | One-time setup fee |
| --- | --- | --- |
| USD/MONTH | $295.00 | $100.00 |
| CAD/MONTH | $385.00 | $100.00 |
ALLYDVM Pricing
Communication + Retention
One-time setup fee
USD/MONTH
$295.00
$100.00
CAD/MONTH
$385.00
$100.00
| ALLYDVM Pricing | Loyalty Program (add-on) | One-time setup fee |
| --- | --- | --- |
| USD/MONTH | $95.00 | N/A |
| CAD/MONTH | $125.00 | N/A |
ALLYDVM Pricing
Loyalty Program (add-on)
One-time setup fee
USD/MONTH
$95.00
N/A
CAD/MONTH
$125.00
N/A
Improve the health of your practice today
See for yourself how ALLYDVM can optimize your client communications and clinic profitability.