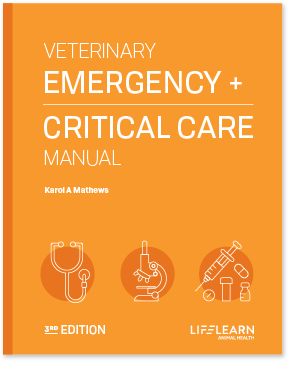 An "expert-by-your-side" essential reference for all emergency and critical care situations.
The Veterinary Emergency + Critical Care Manual 3rd Edition is a comprehensive emergency guide providing fast access to diagnostic and treatment strategies for common emergency situations of dogs, cats, birds, and exotics. Its manual-style format and step-by-step diagnostic, procedural and management instructions were designed to be a quick and easy resource for emergency teams to reference and apply quickly in tight situations.
Its practical and logical approach enables quick clinical decisions and action due to a focus on procedure and protocol, along with the inclusion of detailed decision trees, easy-to-reference tables, algorithms, illustrations and sample worksheets. Practitioners will love the consistently formatted topics with extensive chapter cross-referencing!